Back when gasoline was just a dime a gallon, when fresh milk was still delivered to people's doorsteps in glass bottles, when America had just discovered sliced bread and automatic pop-up toasters... back when times were simple... there was old-time-radio.
Of course, we call it "old-time-radio" today but back in the 1930s, 40s and 50s, radio was the newest, most popular and powerful medium around. In many ways, it was bigger than anything we have today.
It was Called the Golden Age of Radio
The years between 1929 and 1962 are often referred to as the Golden Age of Radio - and radio programs that were broadcast during that period had significantly more variety than radio programming today.
The shows captured the hearts and imaginations of Americans from coast to coast. It was a time when families would gather 'round the radio in the living room - that "magic box" that had the mysterious power to snatch laughter, tears, drama, thrills and adventure out of the air and bring it into our homes.
The Golden Age of Radio started in 1929 - with the debut of radio shows like The Goldbergs, True Detective Mysteries, National Farm and the Rudy Vallee Show
...and continued through the 1930s - when shows like Fibber McGee and Molly, Lux Radio Theater, The Aldrich Family, Bob Hope, Chandu the Magician, and the Al Jolson Show came into being
...the 1940s - when shows like Abbott and Costello, This is the Judy Canova Show, You Bet Your Life, and The Adventures of Phillip Marlow dominated the airwaves
...the 1950s - when shows like Gusnmoke, Dimension X, Tales of the Texas Rangers, Dr. Kildare and The Sixty-Four Dollar Question were introducedg
...all the way to September 30, 1962 when the last episodes of Suspense and Yours Truly, Johnny Dollar were broadcast.
What happened to all those old radio shows - and why would anyone want to listen to them today?
Why would anyone want to listen to decades-old radio shows when we have literally hundreds of TV and cable channels to choose from, an endless selection of movies on the big screen -- not to mention online entertainment with all its interactive bells and whistles?
There are dozens of reasons, not the least of which are: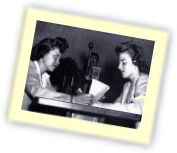 Nostalgia for the "Good Old Days" - Old-time-radio shows enable listeners to take a pleasant stroll down memory lane to when times were simple.

An Amazing Variety of Shows - There are thousands of old-time-radio programs to suit every taste, mood and age bracket

Wholesome Entertainment - Old-time-radio shows offer a refreshing respite from the vulgarities, profanities, sex and violence that punctuate modern-day TV, movies and other forms of entertainment.

"Movies Without Pictures" - The shows allow listeners to visualize the characters, the scenery and the action with their own imagination - and the result is often far better than any movies Hollywood could ever produce!

Not Just for the "Young-Once" but Also for the "Young Ones" - Whether you're 13 or 90 years of age, male or female, American or from elsewhere in the world, there are old-time-radio shows available to enjoy a second time around or discover anew.

"They don't make them like they used to!" - Many old-time-radio buffs insist that the radio shows of yesterday had more appeal than the shows of today - they had well thought-out plots, concise 30-minute storylines, and engaging characters.
Fortunately, over the years many people have collected and restored these old shows so that they can be enjoyed again as much by older listeners as a new generation coming to them for the first time.
Whether you fall into the former or latter group or somewhere in between does not matter - these fabulous shows are, and always have been, something that people of all ages can enjoy.
Re-live the Golden Age of Radio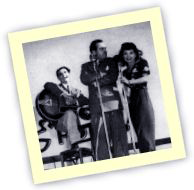 Now, you can "bring back the good old days" for yourself - and travel back in time to a wonderful land where classic old-time-radio shows live on to be enjoyed once more.
OldTimeRadio library has over 30,000 of the best old-time-radio shows that we've hand-picked for your enjoyment. That's well over 10,000 hours of listening! We continue to add more shows every single day of the year.
The shows are divided into ten categories (e.g. comedy, detective, drama, variety) so you can easily find the kind of shows you will enjoy.